Have you ever considered working in the UK as a General Practitioner, but been deterred by the lack of support? We have an end-to-end package to make this a reality, with structured training and financial support at every step.
If you're from the European Economic Area (EEA), have completed a residency in family medicine, passed the specialist exam, have good English language skills, or are a returning GP from anywhere in the world:
Apply Now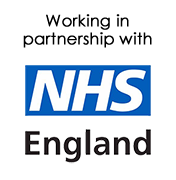 Why Work in The UK?
GPs in England are the cornerstone of the NHS, the first port of call for patients. GPs typically work from practices, leading teams of healthcare and support staff, and working hand-in-hand with other healthcare professionals to deliver the level of care that patients have come to expect of the NHS.
Whilst many GPs come to the UK for the generous salaries and benefits on offer, the real opportunity is in the chance to further your clinical experience working for one of the most impressive healthcare services in the world.
The Process
There are 3 steps within the scheme, which are:



STEP 1 – Observational Post
Description: you will receive ongoing support to easily integrate into the NHS and to better understand the British health system policy, structure and activity. The training programme is delivered by GP Trainers, coordinated by Health Education England and will support your preparation for the MCQ and Simulated Surgery exams
Monthly net income: £3,000
Duration: expected to be up to 3-6 months
Other benefits: up to 4 attempts of MCQ and Simulated Surgery costs will be supported by the NHS
Relocation costs of up to £8,500 for EEA GPs and up to £18,500 for non-EEA GPs is also covered by the scheme, which will help to cover:
Flights for you and your family to the UK
3 months' accommodation and travel in the UK
Your first month's travel costs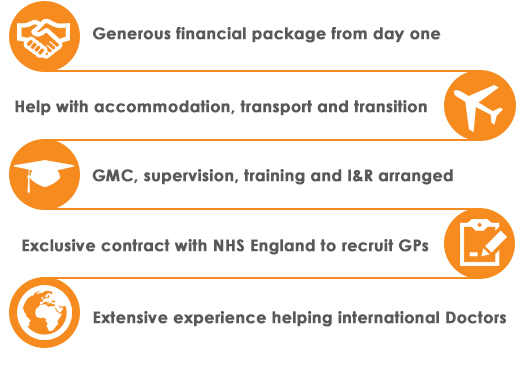 Support From ID Medical
This is a unique opportunity which we're proud to offer exclusively in partnership with NHS England, making what has traditionally been a difficult process simple and stress-free.
ID Medical will provide an end-to-end service including help with accommodation, transport and transition to the UK. We'll give you comprehensive support, arranging registration with the GMC, supervision, training and Induction & Refresher (I&R), and we can provide extensive language training and support including free and subsidised options.
We can also access free language tuition to help you reach the required standard.
We've helped hundreds of international Doctors become GPs for the NHS, and are uniquely positioned to help you navigate the route to UK General Practice.
Frequently Asked Questions
Why the National Health Service (NHS)?
The National Health Service is aiming to recruit a significant number of General Practitioners. The NHS offers a chance to extend clinical experience as one of 1.3 million employees, all of whom are proud to work for a 'national treasure' and many of whom have come to England from across the globe. The NHS covers 54.3 million people and deals with more than 1 million patients every 36 hours. In 2014 the Commonwealth Fund declared the NHS the most impressive healthcare system overall in comparison to 10 other countries, receiving the highest rating for efficiency, safety and coordination. The NHS is also committed to improving the conditions for general practitioners by investing 2.4 billion a year by 2021. This investment will be used to develop infrastructure and recruit more general practitioners.
To demonstrate the commitment the NHS has in GPs on this programme they are giving 3 year contracts to those that are successful.
What is involved in the application process?
The application is started with an initial conversation in your own country followed by some background checks. Which will be followed by an interview with the NHS through Skype. Following this, you will register with the General Medical Council (GMC) which is a requirement to work as GP in England. You will then fill out a self-assessment to help tailor your learning and development to your individual needs and then you have the opportunity to visit the area to develop a further understanding of the role and to meet other international GPs. A second interview will then take place where your learning needs will be assessed. Once the second interview is a success you will be allocated to a GP practice within the region. A minimum of three months paid training and observation will then begin to prepare you for the Induction and Refresher assessments. The following six months will provide you with the opportunity to treat patients under supervision and guidance from a senior GP at your practice.
What is the salary and benefits of the role?
The main benefit is the expert tuition, support and mentoring you will receive from your supervisor and a team of other professionals within your region.
You can expect regular calls with the region throughout the application and interview process so you can start to build your network and be ready to join a practice.<br? in="" terms="" of="" salary:<br="">
Pre MCQ stage – £3000 net per month
Observed practice phase – £3500 net per month
On the Performers List – from £68,000 per annum
There are a number of benefits including paid maternity and paternity leave. As well as paid parental and carers leave.
Other benefits:
Free language training before and during your employment
Full assistance with GMC registration and entering the National Medical Performers List
IELTS/OET support
UK interview expenses paid
GMC and RCGP registration paid
Up to £8500 (up to £18,500 for non-EEA doctors) relocation expenses to include:
Relocation for you and your family
First 3 months' rent
Shipping of possessions
Estate agency fees when selling your old property
First month's travel to and from work
</br?>
What support will be provided outside of the role?
An extensive programme of support is offered alongside the role. Support will be provided in finding a home, a school and organising transport. Furthermore, guidance will be given for important daily tasks such as setting up a bank account and a mobile phone contract. Alongside this, support will be given in the development of your partners English as well as finding work. As well as this any estate agents fees or charges for transportation of belongings will be covered to ensure a smooth transition when moving.
Where will I work?
We have a range of practices across the North of England who are equipped and ready to support an International GP. We have a variety of locations to suit those who want rural, city, urban – or a combination. We can also accommodate special interests to make sure your career aspirations are supported. Speak to us about yours and your family's specific requirements and we can help locate the right area for you.
Why the North of England?
The North of England boasts some of England's most affordable housing with the average detached home being £286,000 compared to £394,000 in the rest of England. Living options are diverse with city, coastal and rural living being available including cities which are rich in culture.
The region boasts excellent transport links with a number of major international airports.
Choose from:
North East of England
Greater Manchester
Cheshire & Merseyside
West Yorkshire & Harrogate
South Yorkshire & Bassetlaw
Lancashire and South Cumbria
What is the process?
Express an interest in the programme and take part in an initial telephone screening
Provide your CV and evidence of current language
Complete pre-employment checks
Initial Skype interview with NHS employing organisation
Attend a Face to Face open weekend in the local area
Relocate to the UK and start a fully paid observership with the employing practice
Engage in and complete Induction and Refresher (I&R) assessments to gain provisional inclusion on national performers list
Complete a supervised placement to gain full inclusion on NHS performers list to begin work as a registered General Practitioner
How will Brexit affect the programme?
We appreciate there is uncertainty surrounding the UK's departure from the EU, but rest assured, we at ID Medical will continue to support you and make any move to the UK as seamless as possible and will be on hand to answer any questions and help you wherever we can. We know that the NHS will continue to require skilled workers, including GPs and other medical staff, after leaving the EU. The recently published NHS Long Term Plan includes a commitment to ongoing recruitment from overseas and states that we will "continue to ensure that high-skilled people from other countries from whom it is ethical to recruit are able to join the NHS".
If you have any questions, please don't hesitate to get in touch, and we look forward to welcoming you to the UK.
TESTIMONIALS
REGISTER YOUR INTEREST
To begin the process of moving to the UK, please complete this form. Only doctors who match the criteria outlined above and who are fully committed to completing the recruitment, training and development processes are encouraged to apply.
Frameworks & Accreditations